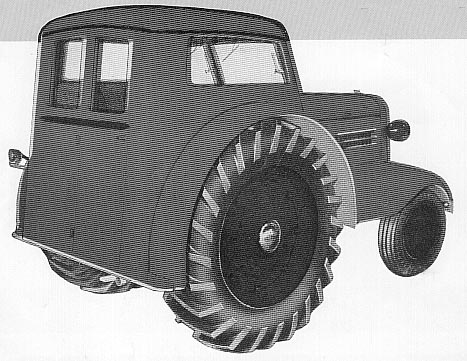 It is easy to get in or out of the MM "Comfortractor"
And when the farmer is inside the cab operating the tractor, he is as comfortable as he would be in a modern automobile.
Invades the Tractor Field
RIDING in superb comfort on a cushioned seat for two, the farmer can now direct his special MM Tractor with the same ease as his automobile. Fully protected from dust and the elements, and fortified with Safety Glass, he
has at his command FIVE SPEEDS FORWARD, from a crawl to 40 M.P .H. Gears can be shifted "on the go."
The variable speed governor is controlled by a pedal, like a foot- feed-Big Bendix "self-energizing" brakes and smooth-action clutch are foot-operated. A self-starter and powerful electric headlights- windshield wipers and an electric horn, respond to the
farmer's touch. Speedometer, ammeter, oil pressure gauge, and water temperature gauge are directly before him. Further features include rear vision mirror with clock, gasoline gauge, stoplight, heavy duty bumper, fenders -front and rear, rubber floor mat, sun visor, knickknack compartment. Countless items facilitate ease of operation, while such luxuries as radio, cigar lighter, ash tray, give pleasant accent to the comfort side.
It's built for SAFETY, too. The cab is built of all-steel with safety glass throughout for good vision to front, rear and both sides. Practically every comfort feature is a safety factor, too.