Wheel Equipment
The 40-62. Super Four has a 14" face drive wheel with 6" extension attached as in cut No. I, making 20" total face. It has a flat steel rim 5/8" thick and may be equipped with 10" extension as an extra making a total wheel width of 24".

The 32-45 Super Four has a 14" face drive wheel with 4" extension attached as in cut No.2, making 18" total face. It has a flat steel rim 5/8" thick. On special order it may be equipped with either 6" or 10" extension rims (cut No.3 ) instead of the 4" extension, making total wheel width either 20" or 24".

Cut No.4 shows various types of lugs that can be furnished on both sizes. 3" angle iron lugs will be furnished unless otherwise specified. Wheels on Super Four tractors are 56" in diameter.



Differential Gear
The Super Four differential consists of three sets of steel SPUR GEAR pinions and a steel spur gear on the splined end of each rear axle, housed with in the shell wheel final drive. Gears cannot spread as is the tendency with Bevel Gears.

Roller Bearing Front Wheel Spindle and Pivot Pin

Heavy Gear Case contains all gears and bearings and forms a support for rear end of tractor and the casting trough in which the engine is mounted and to which the front axle is attached, forms the front end support. The two heavy Nickel Iron Castings above are securely bolted to ether and form a rigid unyielding foundation.
Super Four
Transmission
A substantial transmission with gears and shafts of liberal size is required to stand up under the pulling strain of the super four engines. In addition to being oversized. Huber gears are heat and hardened to protect against breakage and wear. These gears are cut from solid forgings of alloy steel, hence are never weakend by possible sand pockets or blow holes, as is so often the case with moulded gears. Hyatt and Timken bearings are used throughout.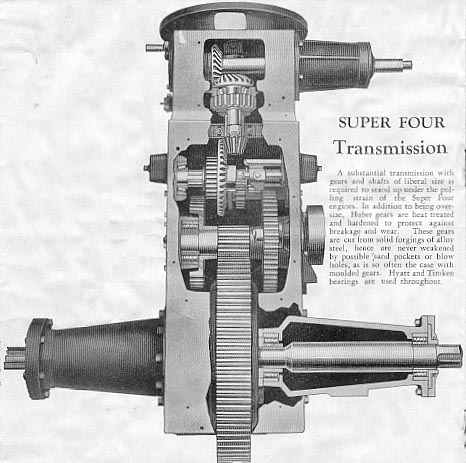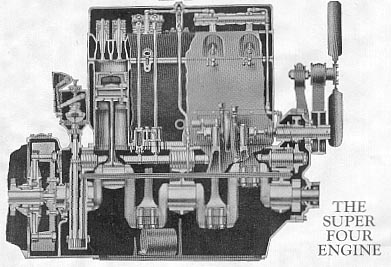 The outstanding feature of Huber Super Four Tractors that makes them extra value is the wonderful excess power that enables them to do more work in less time and to accomplish the big and difficult jobs that ordinary tractors can not do. The advanced design and mammoth construction of the Huber Engine make this excess power possible.